Cracked Deleted Scene – Easily Avoided Movie Deaths
This is a deleted entry from one of the first articles I wrote for Cracked,6 Heroic Movie Deaths That Could Have Been Easily Avoided. This was actually my favorite entry from it but it got cut because it didn't quite fit the premise. Please note, I actually love Star Trek: Generations with a fiery passion, never doubt that, not even for a second. Enjoy!
Easily Avoided Heroic Deaths
Star Trek: Generations – Kirk and Picard
Star Trek: Generations was meant to be an epic captain-mash up that involved James T. Kirk coming back for one last great adventure only to end up dying in a manner so terrible that it had a trope named after it (i.e – Dropped a Bridge on Him), a fate usually reserved for the redshirt of the week, not the greatest captain to ever suffer from constant bedroom eye syndrome.

[Consider yourself eye-fucked.]
No matter how much we hate the fact that Kirk's cause of death was "crushed by bridge" it can't be denied that Kirk died doing something important. The bad guy, Soren, was trying to destroy a nearby sun and inhabited solar system with a rocket, and Kirk needed the device on that rickety bridge so Picard could shut the rocket down. That's cool. We're not here about that.
We're here about Picard and his terrible, no good, very bad plan to save the day.

[Yeah, we said it! Your plan sucked, and no amount of smooth accentery will change that.]
Originally Picard gets transported down to the planet by himself to try to stop the bad guy, Soren, with a plan that basically consists of "punch him in the face". Soren brushes Picard off easily however and fires his rocket into the sun which results in an entire solar system being destroyed along with all its inhabitants and the Enterprise and its crew. So overall, not a great day to be Picard, at least not until he wakes up to find himself trapped in The Nexus, a place where you can have anything you desire, no questions asked.
[Anything.]
So he's hanging out in pseudo-heaven with his fake kids and wife, having a great old-fashioned time, but is feeling kind of bad about his whole lack of saving everyone thing and chooses to leave The Nexus to try to save the solar system again. This is either very noble of him or he found those kids as creepy and irritating as we did.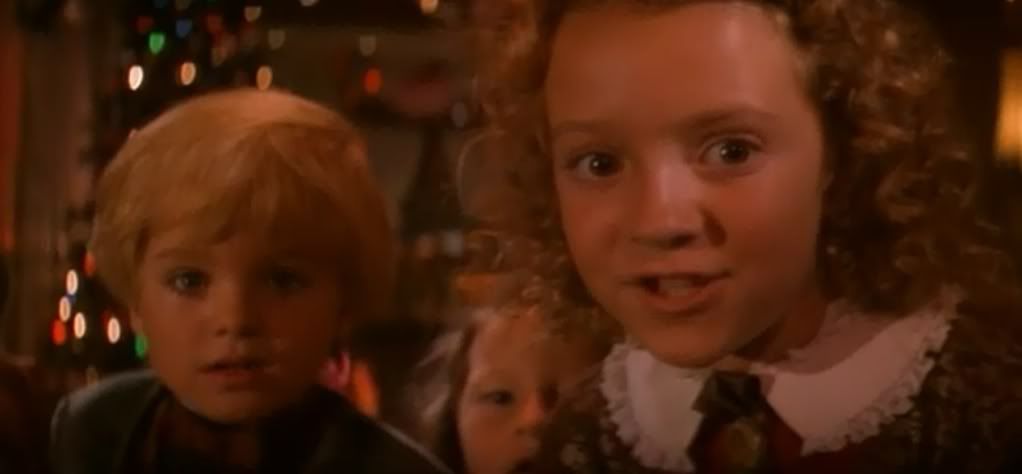 [You wished for these Hellspawn, Picard?]
After deciding to leave, Picard's confronted with a remnant of Whoopi Goldberg who tells him that "time has no meaning here. If you leave, you can go anywhere… any time."
Anywhere. Any time. Think about that for a second, because Picard most certainly does not. Out of all the choices in the entire universe of choices, he immediately decides he wants to go back ten minutes ago and try to fight Soren hand to hand again, but this time with Kirk as backup. We're sure you can all guess what would have been a better choice – anything fucking else!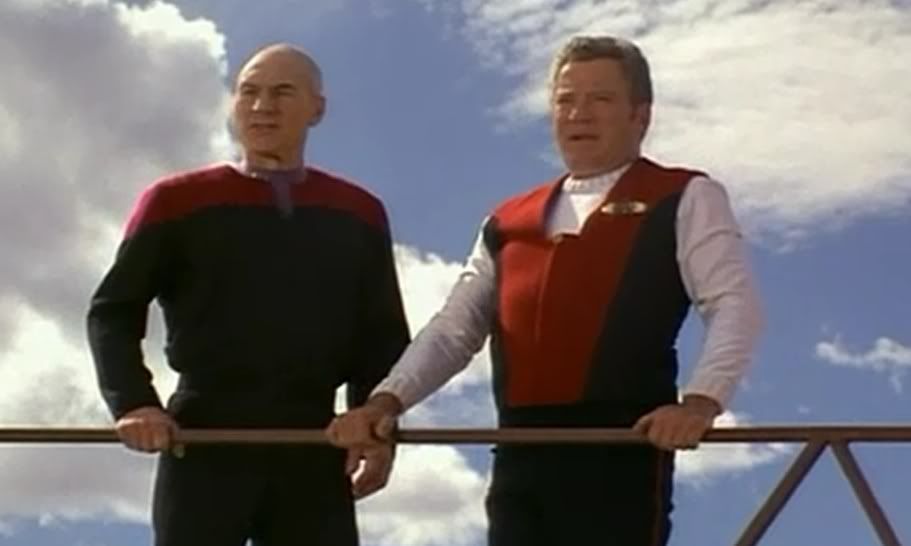 [More powerful than a team of armed security officers. Apparently.]
He can go anywhere, any time! How about going back a week and then bringing the whole Enterprise crew with you to stop Soren, without crashing your ship into a planet and getting beaten up by some fugly girl Klingons on the way this time. Or go back two weeks, kick back, have some Earl Gray (hot) and then go to the planet before Soren ever even arrives. Or send Kirk back to his own time and stop Soren eighty years before this happens!

[Not that Soren.]
That's what we came up with off the top of our heads. Obviously the better choice would be to go anywhere that doesn't involve three old men settling their differences in a fist fight that will determine whether an entire solar system lives or dies. We kind of know that that's how Kirk rolls, but we expected better from Picard. Really, we could go on for days about the different paths Picard could have taken here instead of bringing only a sixty year old man with him who manages to lose a fight where gravity and inanimate objects are his only opponents.

[We all know Kirk was meant to die of a heart attack during an orgy with a dozen Orion slave girls.]
Suffice to say when you can go back to any point in time, anywhere, don't pick a time when a solar system was about to be destroyed and you had no weapons or back up.