Batman's Greatest Death Traps #1
Feeling nostalgic for 60's Batman and yearning for a little "Biff, Bang, Pow!" I started checking out Youtube clips of the old Adam West and Burt Ward camp-fest and realized that Batman and Robin have survived some truly amazing death traps and that there is absolutely no reason for me not to start listing them in all their glorious details.
For my first installment, I bring you Joker's man-eating clam, which is exactly what it sounds like.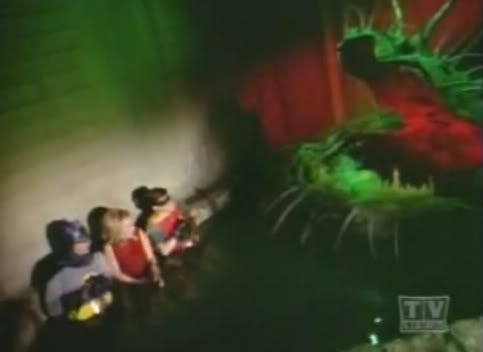 [I'm a literal person and apparently so is the Joker.]
In this brilliant episode the Joker has captured The Dynamic Duo and his own henchwoman who has of course fallen in love with Batman, because clearly Batman is an emotionally stable guy with absolutely no psychological issues whatsoever and would make a great boyfriend. Anyway, Joker decides to kill them by chaining them into a water vat with a huge clam that is going to eat them, starting with Robin, who doesn't even survive until the end credits and before he gets eaten has the greatest look of terror on his face I've ever seen.
[Acting!]
There are many things that make this death trap classic, the first being the cliffhanger text at the end of the two-parter, which easily makes my top ten list of sentences I never thought I'd post pictures of: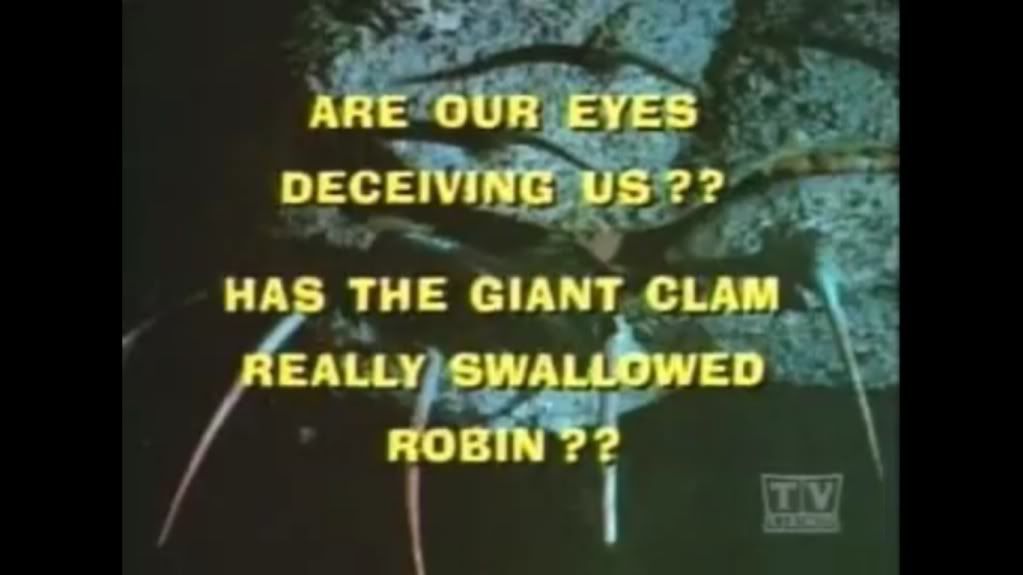 [Well, I don't think something lacking a throat and an esophagus can 'swallow' anything, so no, actually, it hasn't. More like the Giant Clam has placed him gently in its mouth, which just sounds dirty.]
Despite all the clam-inaccuracies of the episode (i.e. that it's a fish so counts as the Pisces portion of Joker's Zodiac crimes), what I think I love the most is that it's never explained where the hell Joker got the giant clam from. It's not part of his criminal plot, he never mentions stealing it, or growing it, or anything, it's just kind of there, I can only imagine because the production company happened to own a giant prop clam and needed to get their money's worth out of it.
And then it eats Robin.
[Unfortunately not until about five minutes in, but it's worth the wait.]
After a week of torment where we would have been driven insane wondering 'how, how will they ever escape, Robin's already dead for the love of God!" in the next episode we see that Batman is able to perform super-human feats of strength, and breaks free of his chains, a good two minutes after Robin is eaten, which doesn't seem like it should have been all that helpful to Robin. It's like lifting a car off someone when they've already been crushed to death, but feel free to judge for yourself.